Pete Zeidner was born in 1958 to an immigrant family in Cleveland, Ohio. As a baby with cerebral palsy, he was not expected to live. Cerebral palsy limited his ability to walk, use his hands and speak. Pete lost his mother in a car accident when he was just four years old. His father remarried and Pete's new mother, who believed in tough love, became the most influential person in Pete's life. When Pete was five years old, she weaned him off the baby bottle, potty-trained him, and helped him learn to eat by himself.
At the age of eight, Pete's parents took him out of second grade and started working with him, based on the philosophy that a child needs to be able to creep and crawl before attempting to walk. During the first three years of this very rigorous program, Pete was not allowed on his feet. By the end of the sixth grade, Pete was able to walk and function well enough to be integrated into Saint Mark Lutheran School in Cleveland. While Pete was the only student with a disability, the school only needed to make a few adjustments to accommodate him. This was the first time Pete was able to be independent of his parents and to make friends.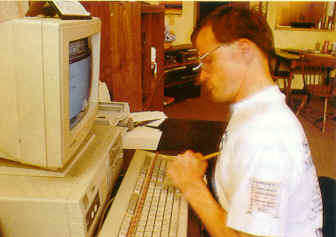 Pete began high school in 1974, at Lutheran High School West. At 16, he felt cheated by his disability as he watched his friends receive their drivers' licenses. After graduating from high school, Pete enrolled at a community college and took televised classes. The following spring semester, he began taking classes on campus, after convincing the Ohio Bureau of Vocational Services to pay for a Bachelor's degree at a state school. Pete soon transferred to Kent State University and graduated in 1986 with a Bachelor's Degree in Business Administration, with a major in Marketing.
Upon graduation in 1986, Pete started job hunting, sending out many resumes and participating in a number of interviews. Although most of his classmates received job offers, Pete did not. He was disheartened. Some part-time employment was forthcoming through members of his church. However, it was less than satisfying because he wanted to do more, to be all that he could be, and to contribute more to society. What could he do?
Friends and family worked together to get Pete into a three wheeled recumbent bike. It was a godsend. He told his pastor that for the first time he could keep up with his peers! It provided the impetus for an idea: Pete would ride to collect money for cerebral palsy research. The Elks Clubs of Ohio were of great help for the initial attempt. He rode 1,001 miles around the edges of Ohio and was able to collect $10,000, which was contributed to Northeast Ohio Universities College of Medicine for research there.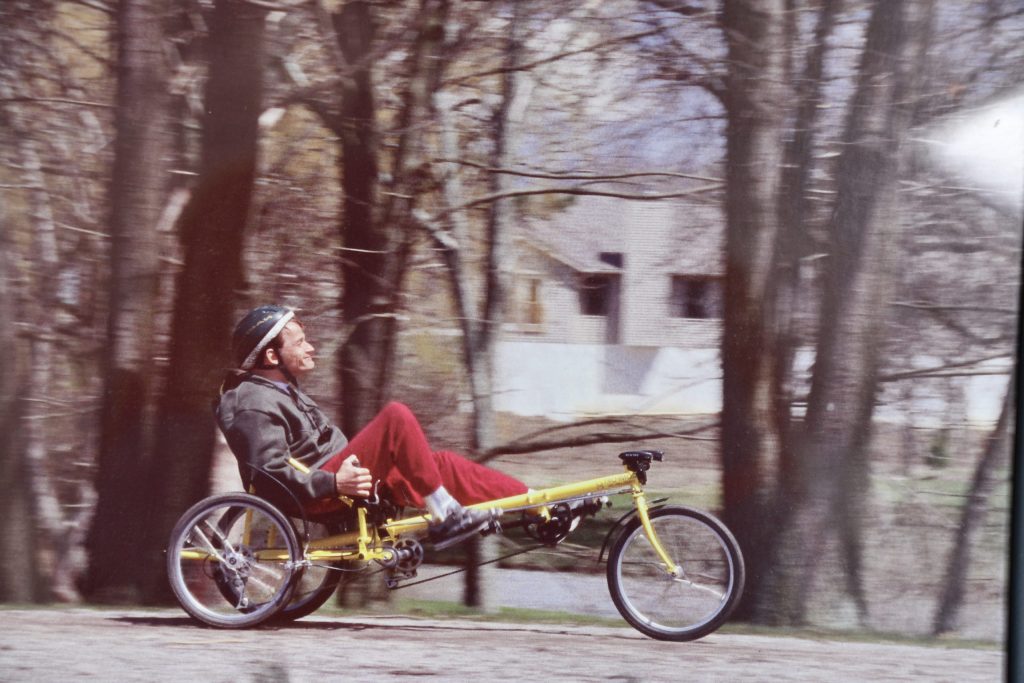 Pete developed a grander notion: he would ride across the USA and collect $1,000,000! With that in mind, he founded the Pedal with Pete Foundation in 1993 and the requisite 501 c (3) (non-profit) status was obtained. From 1993 to 1995, Pete worked to get the logistics in order. The logistics turned out to be overwhelming. The ride was not going to happen.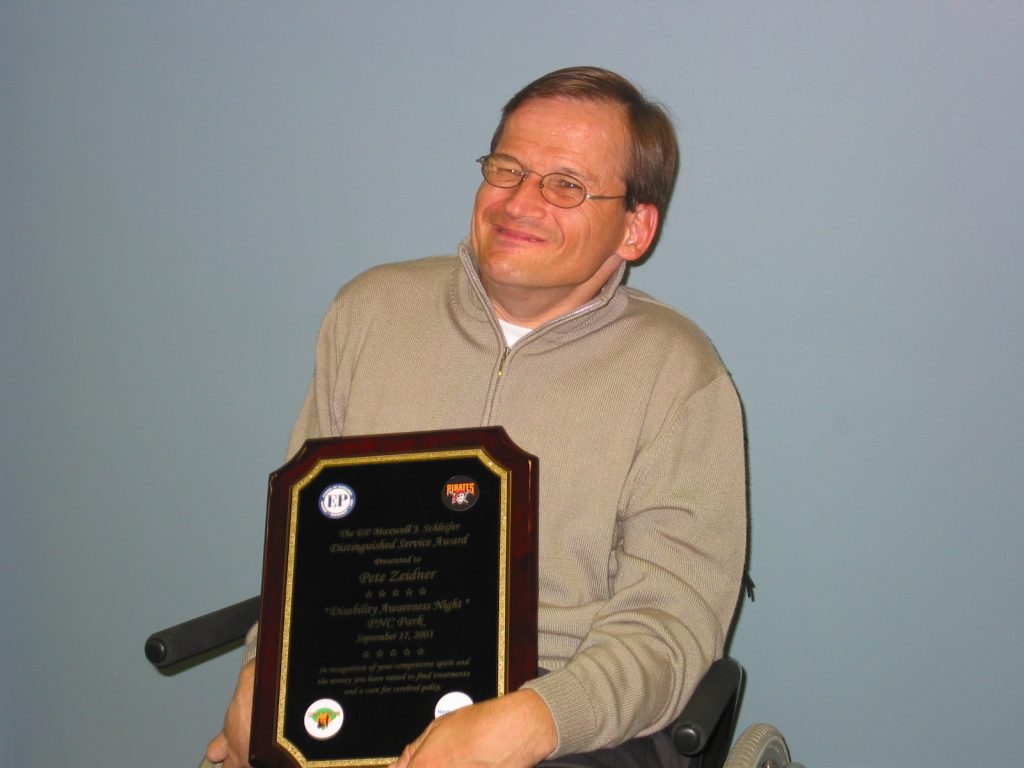 Not to be thwarted, Pete and the Pedal with Pete Foundation changed gears, took another route, and got back on their bikes. Pete realized that funds could be raised for cerebral palsy research through cycling and walking events. In 1995, the first fundraising event was held in Kent, Ohio. It was a start, and success grew with each passing year. Pete would ride at least part of the way with the riders each spring.
Best of all, Pete found a researcher who cared about people who have cerebral palsy, and was doing research to help people who live with cerebral palsy every day. Dr. Leland Albright was one of the first cerebral palsy researchers, and his work to develop the Baclophen Pump was funded partially by some of the first dollars raised by the Pedal with Pete Foundation.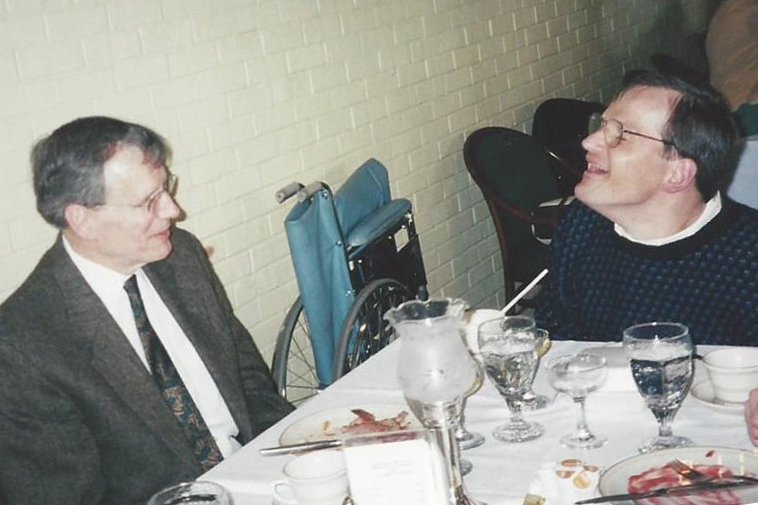 In 1998, a small group in Emmetsburg, Iowa chose to begin an annual bike ride to raise funds for the Pedal with Pete Foundation. Then, in 1999, while participating in the Great Ohio Bicycle Adventure ride, tragedy struck. Pete was coming down a hill, swerved to avoid a vehicle, turned over the bike and broke vertebra C1 and C2 in his neck. It effectively grounded him. But his determination was not diminished.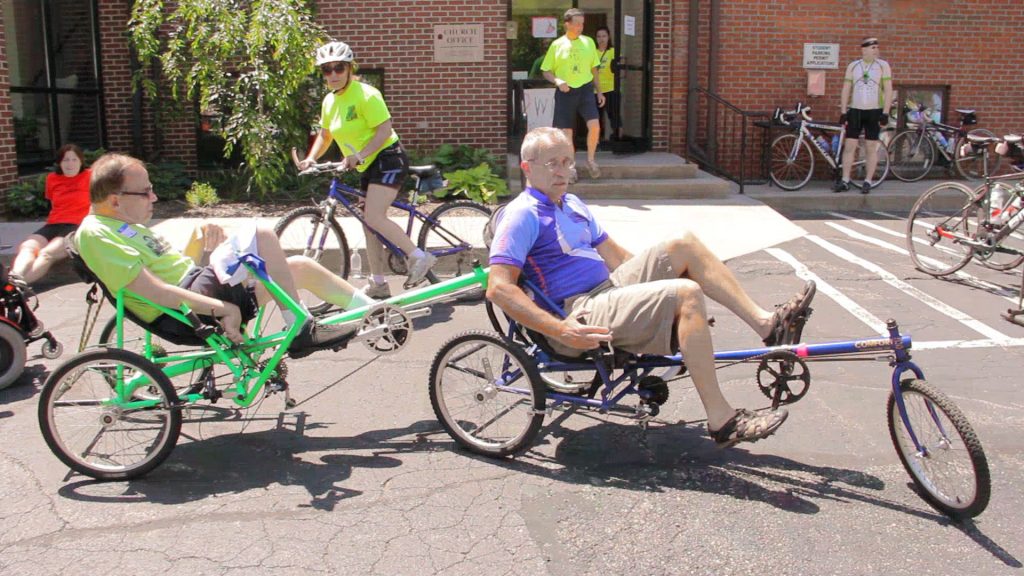 In 2001, largely upon the initiative of Pete's brother, Chris Zeidner, a highly successful ride in Columbus, OH was begun. The Pedal with Pete Foundation's headquarters had been located in Kent from 1993 until 2009. In 2010, the headquarters shifted to the Columbus.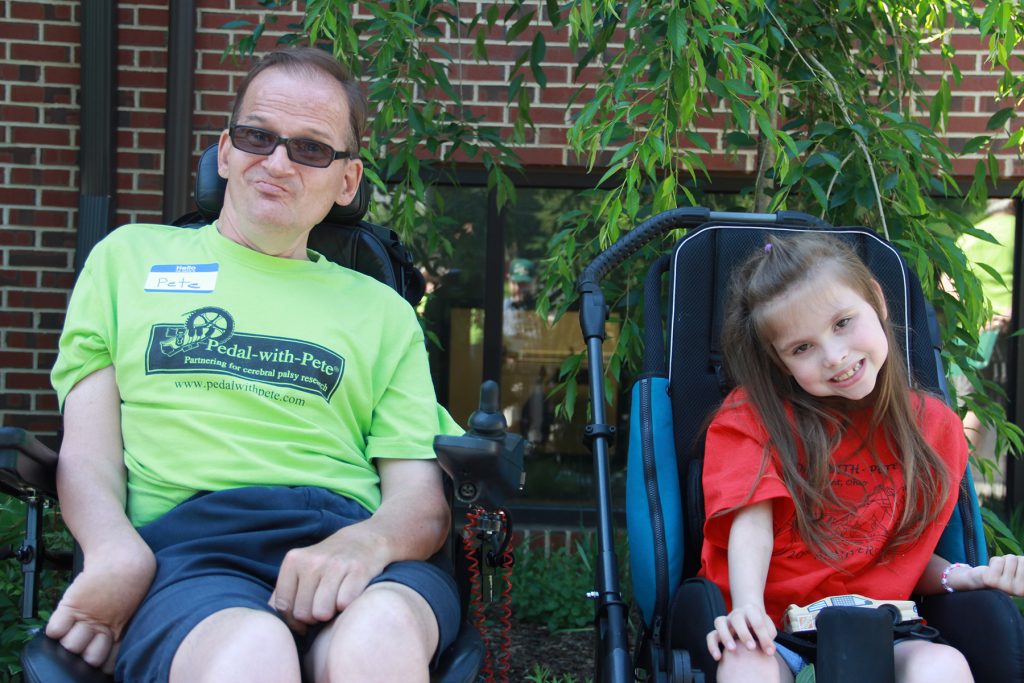 Over the years, research to help people with cerebral palsy grew by many orders of magnitude, along with the reputation of the Pedal with Pete Foundation in the communities where the events were held, but more importantly, among the research community. The grants, at $25,000 – $35,000 each, fund a seed grant, where a researcher is exploring a new idea. There are very few organizations that provide seed grants, and researchers need funds to do initial exploratory research before they can proceed with a larger effort that might be funded by the National Institutes of Health or the Centers for Disease Control. The Pedal with Pete Foundation has made a difference by providing this funding.
In late 2015, Pete's grand notion was accomplished: cumulatively the events had contributed more than $1,000,000 to cerebral palsy research. To make this milestone even more grand, Pete completed his autobiography: "It Sucks to be a Gimp: Pedaling to Freedom" within the same year, and turned over the subsequent publishing and profits to the Pedal with Pete Foundation, and thus, cerebral palsy research. Over the course of the last 9 years, the Foundation has supported 26 grants. This is only possible because of the generous donor, sponsor, and volunteer contributions, and the rider and walker commitment to the events held in Kent and Columbus, Ohio, and Emmetsburg, Iowa.
Pete passed away quietly in early 2019 at the age of 60. The Pedal with Pete Foundation is honored to continue his legacy, partnering to fund cerebral palsy research.